GW&K Global Perspectives — August 2023
The Untapped Potential of Japan's Equity Market
Highlights:
Japan's equity market offers significant untapped potential, characterized by impressive earnings growth, attractive valuations, and improving corporate governance.


Despite these favorable factors, both domestic and foreign investors have largely overlooked Japanese equities, making them an unloved and under-owned segment of the global developed equity market.


The notable improvement in corporate governance and shareholder returns, coupled with its undervalued status, make the Japanese equity market an attractive opportunity.


An Overlooked and Undervalued Asset Class
Japan's equity market has long been overlooked and undervalued, but beneath the surface lie attractive opportunities for global investors. Despite impressive earnings growth and compelling valuations, Japanese equities remain unloved and under-owned by both domestic and foreign investors. In this piece, we delve into the untapped potential of Japan's equity market, highlighting key factors that make it a compelling investment opportunity.1
As background, Japan has been the best-performing major market in the first seven months of this year, with a gain of 27.1% in local currency terms for the widely tracked Nikkei 225 Index (Figure 1). That said, the Nikkei posted a less impressive return of only 17.9% in US dollar terms, with the Japanese yen having weakened by about 10% over the same period. It is also worth noting that the Nikkei at mid-year was still trading 15% below its peak level reached in December 1989, at the zenith of Japan's "bubble economy" more than 33 years ago (Figure 2).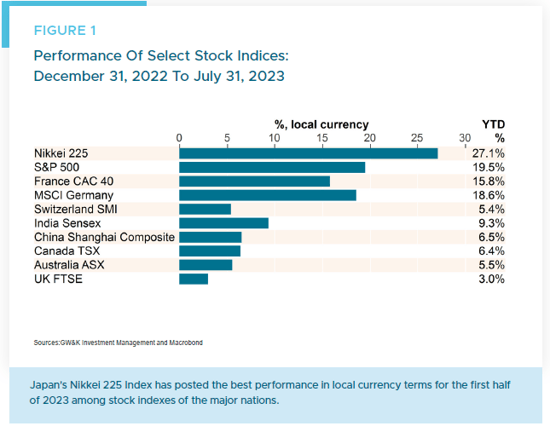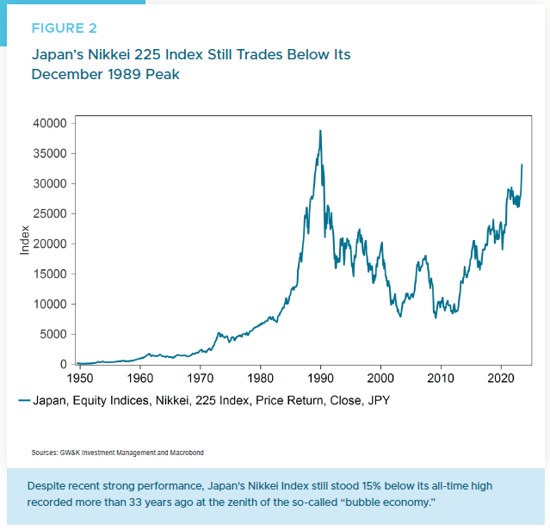 This was a bubble that took roughly 20 years to fully unwind, with a peak-to-trough decline in the Nikkei of nearly 80%, with the low point in the market finally being hit in mid-2009. Since then, the Nikkei has delivered respectable annual returns of 12.5%. However, the bitter memories the Japanese market created for both domestic and foreign investors for several decades certainly help explain its unloved status.
Japan's Earnings Growth and Competitive Advantage
Notwithstanding this sorry history, Japan surprisingly has posted the fastest growth in earnings per share (EPS) among major global equity markets over the past decade, at least in local currency terms (Figure 3). Japan's annual EPS growth of 7.5% over that period becomes more astonishing when we consider that it was achieved despite anemic nominal GDP growth of only 1.1% per year. In comparison, the S&P 500 achieved EPS growth of 7.0% against average US nominal GDP growth of 4.8% per year.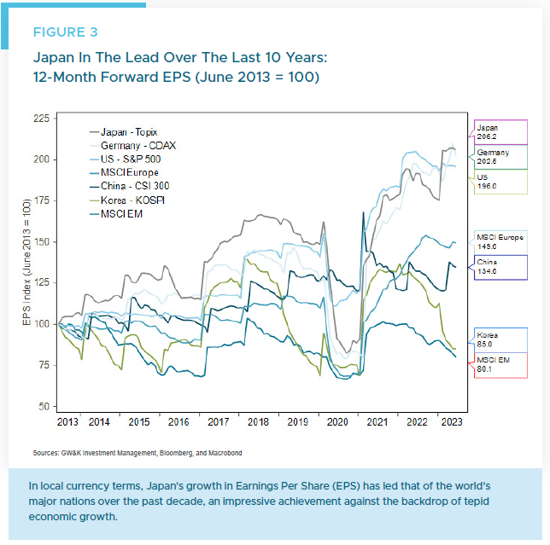 Adjusted for inflation, Japan's trend compound annual growth rate of EPS stands at an impressive 3.8% over the past decade, outperforming the S&P 500's rate of 3.0% (Figure 4). It's as if Japanese companies have not only survived but thrived in a high-altitude training camp marked by low inflation, unfavorable demographics, and intense international competition.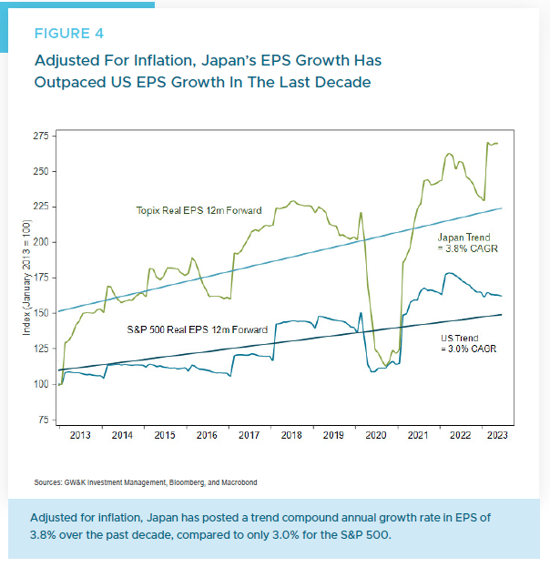 Foreign Investor Sentiment, the Weak Yen, and Valuations
Another factor behind the underappreciation of Japan's equity market has been the persistent
downtrend in the value of the yen, which is at its weakest level in real terms since the early 1970s (Figure 5). Japan's weak currency policy has made its production costs highly competitive, just as global supply chains are diversifying away from China.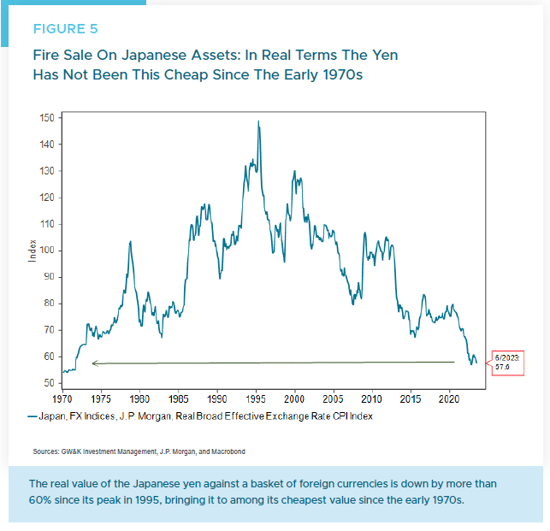 However, yen weakness has also deterred foreign investors, who have been net sellers of Japanese equities since mid-2015, unloading some $25 billion in holdings even as the market capitalization of the MSCI World Index gained $24 trillion over the same period (Figure 6).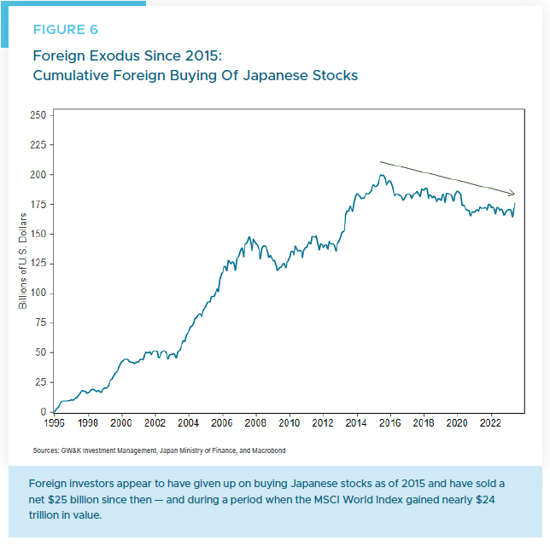 Lack of investor interest has made Japanese equities a bargain, with the TOPIX Index trading at a 12-month forward price-earnings multiple of 15 times at the low end of its 15-year range (Figure 7). Compared to the S&P 500, Japan's valuation represents a 29% discount, with Japanese equities offering an attractive forward earning yield of 6.7% (= 1/15).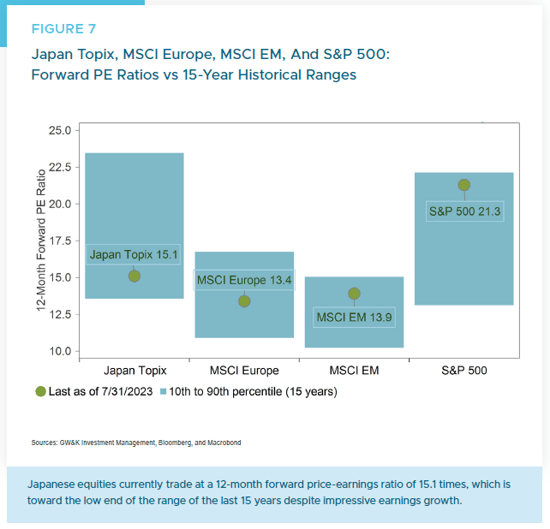 To be sure, the trend toward yen weakness has represented a significant headwind to returns for foreign investors in Japan. But to the extent it is trading at a generationally low level, it may also represent an opportunity for foreign investors to acquire Japanese equities at a "fire-sale" price from a currency perspective.
At a very minimum, those who have ever been inclined to visit Japan as tourists may want to consider visiting sooner rather than later to take advantage of the weak yen. Indeed, the same logic applies to "investment tourists," who have recently seen bargains in Japan — including one rather famous investor from Omaha.2
Domestic Investor Allocation and Potential Shift
Despite the recently improving fundamentals, even domestic investors in Japan have been hesitant to embrace equities. Japanese pension funds allocate a mere 9% to equities, while their US counterparts allocate triple that amount at 28%. Similarly, Japanese investment trusts allocate only 27% to equities, contrasting with the 61% allocation by comparable US institutions (Figure 8).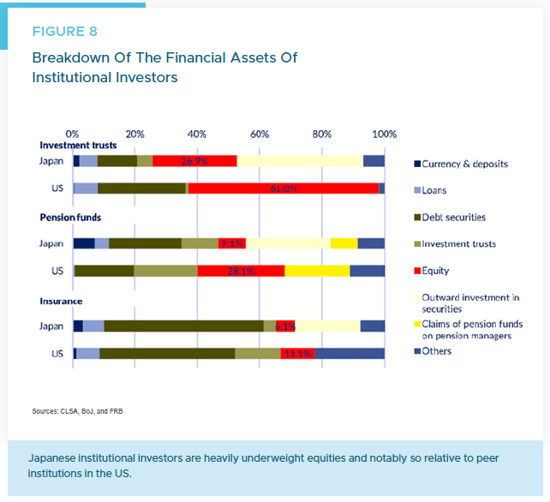 Japanese households exhibit a similar tendency, with only 10% of their financial assets allocated to equities compared to approximately 40% for US households. Astonishingly, Japanese households keep a staggering 54% of their financial assets in cash equivalents, while their US counterparts allocate only 14% (Figure 9).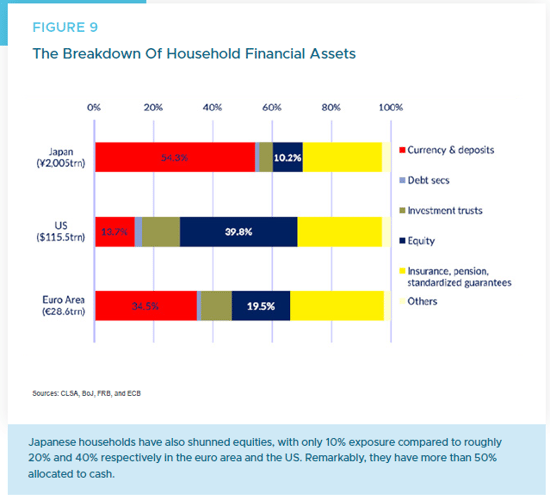 The underinvestment in equities is especially puzzling since yields on Japanese government debt are still negative for short maturities (-0.09% for 1-year tenors) and stand at a paltry 0.60% for 10-year maturities. With all measures of core inflation now running above 2%, these starting yields virtually guarantee negative real returns on Japanese investors' cash and fixed income holdings. This situation sets the stage for a significant shift of asset allocations toward equities for their higher return potential.
Improved Corporate Governance and Shareholder Returns
In recent years, Japan has witnessed a sea change in corporate governance, with a growing focus on shareholder returns. The government and the Tokyo Stock Exchange have actively pushed companies to improve returns, leading to a surge in buybacks and dividends. Reflecting the efficacy of the "name and shame" approach to pushing for higher returns, share buybacks grew by 29% in the last fiscal year through March 2023.3
As a result, the shareholder yield — which combines buybacks and dividends — reached an impressive 3.5% at the end of March (Figure 10). Importantly, these shareholder returns are not being financed through increased leverage, but rather, from retained earnings. This key distinction reflects the robust corporate fundamentals and balance sheets in Japan. While governance is still a work in progress, the rapid improvement in shareholder returns adds another layer of attractiveness to Japan's equity market.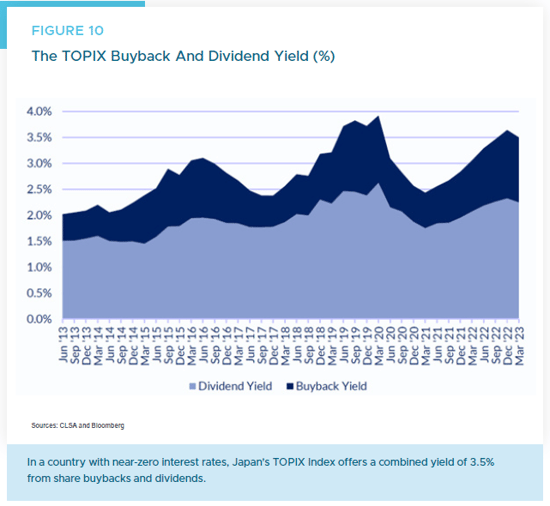 Risks and Opportunities
No equity market is without risks, and Japan's market is no exception. It remains correlated with the global growth environment and susceptible to homemade recessions and geopolitical shocks. However, Bloomberg's survey of economists indicates lower recession risks in Japan (30%) over the next 12 months compared to the US, eurozone, or the UK (Figure 11). Additionally, the OECD's index of leading economic indicators for Japan remains in positive territory (Figure 12), which cannot be said for the US, eurozone, or the UK.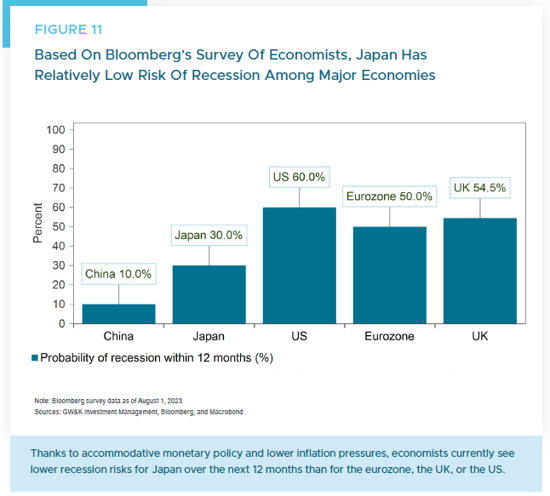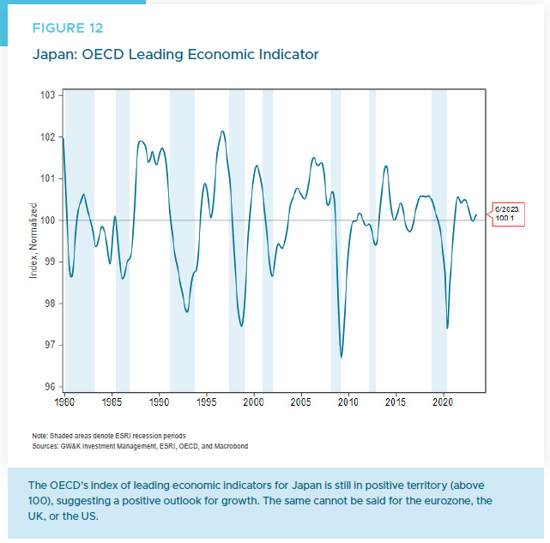 Furthermore, while the Bank of Japan is expected to tighten monetary policy, it is widely anticipated to remain more accommodative relative to other central banks. Even a modest tightening, accompanied by an eventual end to the Bank of Japan's "yield curve control" of suppressing bond yields, could initially saddle Japanese investors with capital losses on their bond portfolios that further add to poor returns for Japan's fixed income investors.
Conclusion
Japan's equity market, unloved and under-owned, now presents an intriguing opportunity for global investors seeking diversification. With impressive earnings growth, attractive valuations, and a shift in corporate governance, Japanese equities offer a chance to invest in well-managed businesses with strong fundamentals. As bond returns continue to disappoint, the flow into Japanese equities could act as a significant tailwind for equity prices. While risks persist, the untapped potential of Japan's equity market makes it a compelling addition to a diversified global portfolio.
William P. Sterling, Ph.D.
Global Strategist
1 For further analysis of the case for Japanese equities, please see comments from Reid Galas, GW&K's Portfolio Manager for Global Equity Strategies, in the Global Equities section of GW&K's 2Q23 Quarterly Investment Review.
2 Elliot Smith, "Warren Buffet doubles down on Japan, increasing stakes in five trading firms," CNBC, June 19, 2023.
3 For additional perspective on improved corporate governance in Japan, see Nicholas Smith, "Japan's on a roll," CLSA Market Strategy, May 26, 2023.